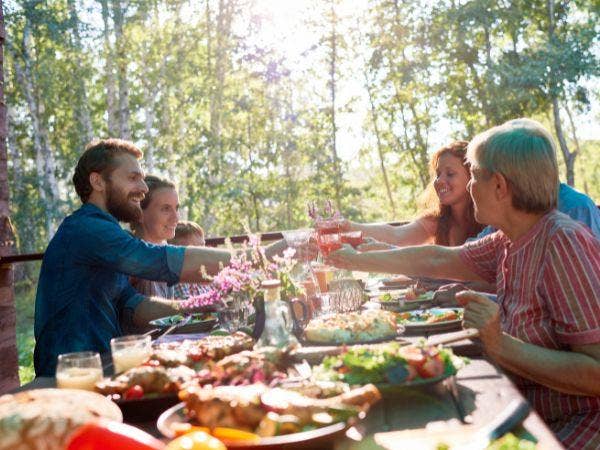 The key to planning a family reunion is starting early - even as far as a year in advance! There are tons of details to put in order, and you'll want plenty of time to get ready for the big day.
Here's a list to make planning a little easier:
Consult the fam.

Before you start planning, check to see if your family has any special requests regarding food, venues, and dates.

Pick a date.

If you have the reunion on the same day every year, you've got this step in the bag. If not, get input from everyone on what works.

Get an idea of the budget.
Pick a location.

With your budget in mind, choose a location like a campground, bed and breakfast, or simply someone's backyard.
TIP:  We have a whole section designated for family reunion needs. If you plan on having your reunion in a backyard or a public park, you'll need supplies. We offer sturdy tables, tents (to offer shade and shelter from potential rain), and folding chairs. 
Send out invites.

As soon as you pick the date and location, send out invites with an RSVP request to get a loose number of how many people will be attending.

Plan the menu.

When you're planning your menu, there are a few things to keep in mind:

Does the venu you chose have an on-site kitchen?
Are there outlets to plug in food warmers?
Are there any allergies to keep in mind?

Plan the entertainment.

From an auction to a family trivia game, there are endless options for reunion fun.

Assign tasks.

A lot goes into making a family reunion perfect. If you spread out the duties, your life will be much easier.

Make a backup plan.

When you're planning an event a year in advance, anything can go wrong - and sometimes, anything will. Have a backup plan to keep your reunion from being ruined.

Confirm everything.

A few weeks before the event, call your venue, caterer, and lodging setup. Get in touch with family members that agreed to help and confirm their participation, and let them know what time to show up along with what items they should bring.
Getting The Family Together
On the big day remember the reason why you gathered everyone together. There is nothing more important than family, and all of us here at Tent and Table want to make your reunion the best that it can be.