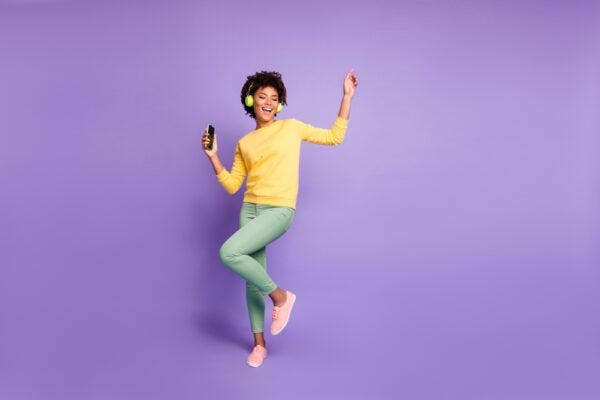 Let's Learn How to Make a Portable Dance Floor
Note: This article talks about tiled portable dance floors, like the ones we sell here at PTD. It doesn't discuss portable marley dance floors, but explains how to make a portable dance floor with tiles that snap together.
Nothing gets the party popping quite like a portable dance floor. Just fire up some great tunes, light up the area in a fun way, and supercharge your party all night long. 
Your new portable dance floor lets you take that party with you wherever you feel like setting it up. Indoors or in the yard, these sturdy, reliable dance floors snap together in a breeze and will hold up to countless hours of dancing. But how do you put it together? What tools do you need? How do you make a portable dance floor and assemble the whole thing safely?
Portable dance floors are incredibly easy to put together and take apart again. You can put them inside or outside, and their tough vinyl coated plastic is as durable as it is easy to clean. But right out of the box, it can be a little confusing knowing where to start. And that's where this article comes in.
Before we begin, you're going to need a tool. Yep, just the one! All you need to assemble your dance floor is a measuring tape. Your dance floor includes everything else you need (provided you bought it from Party Tents Direct, anyway).
Please note, if you've owned your portable dance floor for a while and you're missing any components, stop by our website and pick up whatever parts you need.
Let's Get Started! Assembling Your Portable Dance Floor
First things first, let's prepare a suitable area for your dance floor to get assembled. Portable dance floors are easy to assemble indoors or outdoors on any hard, flat surface. If you're setting up outdoors, you'll want to lay down some plywood underneath first. This will keep the ground even and ensure everyone can dance safely.
Use your measuring tape to make sure your chosen site has enough open area for your needs. You should also make sure you're leaving plenty of space for foot traffic around the dance floor, too. If you plan on using seating—say, a shamelessly plugged folding party chair, for instance—you should add space for those into your calculations, too.
Next, let's prepare our tiles by inserting their clips. Each tile will have seven clips total. Two go on the bottom, two go on the top, and three are inserted into one side. The side opposite of where you inserted those three clips is left empty, so you can attach another dance floor tile there.
Once your clips are attached to your tiles, simply lay out your tiles in a zig-zag pattern, starting in the upper left corner and moving to the right. The side of the tile with three clips should be facing right, and each tile should easily snap into the last.
When you're done with that row, go down and continue the zig-zagging. Now, the three-clipped sides of the tiles will be facing left. Keep going until your entire dance floor is snapped together.
All set? Great! All that's left is to attach the edges. When possible, try to prevent the gaps between edge pieces from aligning with the gaps between tiles. This will help make the dance floor more secure.
That's It! Now You Know How to Make a Portable Dance Floor
That's all there is to it. There isn't much to knowing how to make a portable dance floor. Their simple tool-free design is one of the many reasons they're so popular among our customers. They're a breeze to set up and take apart, and they're versatile enough to work just about anywhere that's hard and flat.
There isn't much these portable dance floors can't do. Well, except helping you learn how to dance. That's all you. But if you need a sturdy, mobile surface to bust a move on, you won't do much better than a portable dance floor from Party Tents Direct.
Need any help finding a great portable dance floor for your next indoor or outdoor event? Or are you looking for portable dance floor parts and accessories? Give PTD a call at 1-716-566-5804 and we'll help you find exactly what you need!
Related Content
How Big of a Portable Dance Floor do You Need for Parties or Weddings?
What Size Wedding Tent Do You Need? Let's Calculate It!
How to Decorate a Tent for a Party: 12 Simple Steps