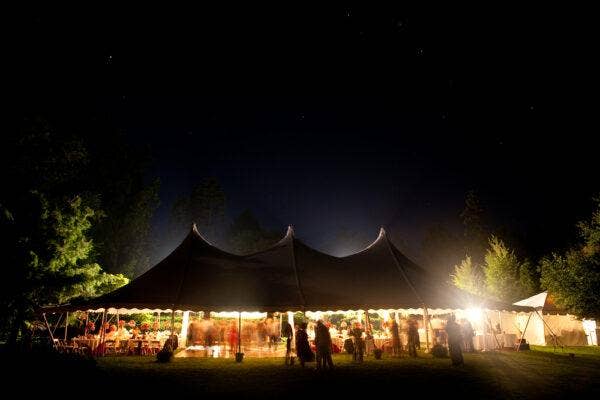 In Need of a Party Tent? Let's Show You How to Rent a Tent for Parties!
Not everyone knows how to rent a tent for parties. A lot of people approach it with a "how hard can it be?" attitude and, lacking adequate information, find themselves making a few avoidable mistakes. And those errors can be equal parts costly and nerve racking.
Organizing a party, a wedding, or some other social event can get super stressful really quickly if you go into it without enough information. And while we aren't qualified to offer advice on some subjects—we don't know which DJ is better, sorry!—we can definitely show you how to rent a tent for parties, and whether or not you should rent or buy a party tent.
At face value, knowing how to rent a tent for parties probably seems pretty straightforward, right? You just Google something like "party tent rentals near me" and call someone off of those search results. But there's more to renting a party tent than meets the eye, and with a handful of pointers we can hopefully help you avoid a nightmare experience.
Renting a Party Tent 101
First things first, let's figure out what exactly you need from your party tent. There are a handful of important questions we should answer before we get started. Questions most professional rental operators will be asking you when you call them.
What type of event are you organizing? Is it a house party? A graduation? A wedding?
What's the total budget for your party tent rental?
What specifically will you use this tent for?
How many people will be using the tent at any one time?
How long, in hours and days, will you need this tent?
What other equipment will you need to make your event succeed?
Knowing the answers to these questions helps an event and party rental company understand and fulfill your needs. And these answers all help you avoid paying for a lot of extra things you don't necessarily need.
Related: What Size Party Tent Do You Need? Let's Calculate It!
You're going to want to generally know how big of a party tent you'll need, and how many tents you'll need. You'll need a concept of what equipment should be coupled with your party tent rental as well.
Are people dining under the tent? You may want to also rent folding tables and party chairs. Will you have dancing at your event? It's probably a good idea to include a portable dance floor. And if your event will have lots of kids present, you should consider including a bounce house or an inflatable water slide.
Eight Tips to Avoid Shady, Crummy Rental Companies
Unfortunately, you'll find businesses with questionable practices in just about every industry under the sun. Ours is sadly no exception. Knowing how to rent a tent for parties means knowing how to spot shady businesses, so let's show you how to detect the bad eggs.
Ask around first. Did your friend recently have an outdoor wedding? Did your sister recently book a bounce house for your nephew's birthday party? Ask them who they rented from and how the experience was for them.
Read online reviews. One customer having a bad experience isn't all that telling. But several customers reporting the same issues? That's a big red flag.
Ask if they have liability insurance. If something unfortunate happens, you want to make sure you're not left holding a significantly larger bill than you were expecting.
Make sure the rental company offers delivery, setup, and teardown services. Some companies expect you to do all of the work. This might save you money, but you'll want to make sure you have the time, manpower, and know-how to set it all up.
Ask the company to outline all of their fees and charges. They should tell you in straightforward terms exactly what you'll be paying for
Check the prices of competitors. If a company is charging way less than their competition, that's not usually a good thing. The old adage "you get what you pay for" is almost always true in this business!
Ask for sample photos of previous setups. Does everything look clean, organized, and professional? If they offer a tour of their warehouse, you should take that opportunity.
Get multiple quotes. Never go with the first rental company you find. Always get at least two or three quotes from different companies before making a final decision.
Should You Rent a Party Tent, or Buy One?
Many of you reading this should be all set. You're hosting just one big event and need a party tent rental. If that describes you, thanks for reading and we hope these tips were helpful! But if you see yourself hosting lots of events —birthday parties, graduations, backyard barbeques, tailgating parties, etc.—you'll want to stick around for a bit.
If you're someone who might host outdoor events and parties more regularly, you may not want to simply know how to rent a tent for parties. Instead, you'll want to know how and where to buy a party tent you can use over and over again.
Related: How Much Does a Party Tent Cost? Should I Rent or Buy?
Renting a party tent repeatedly can get expensive really fast. Most party tent rentals will run you anywhere from $200 to $1000 per day, or even more. Meanwhile, you could buy that same party tent for as low as $1500 to $3000, or a similarly sized consumer grade party tent for under $1000. At some point, it gets cheaper to just buy the tent yourself.
Of course, buying a party tent means you also need to buy some supporting equipment. You'll want tent sidewalls, tent stake drivers and extractors, and a high quality hand truck or dolly to help you move it around. If you're buying a frame tent, a tent jack is also an essential piece of equipment.
Having said all that, buying a party tent is worth it if you see yourself hosting outdoor events more regularly. Birthday parties, barbeques, family reunions, Independence Day … there's never a shortage of excuses to break out a high quality party tent!
Don't Buy a Party Tent Without Help. Give PTD a Call Today!
If you do decide to buy your own party tent, take your time with this decision. Browse our blogs and read up on the process of setting up, using, and tearing down these tents. And be sure to browse our selection of party tents and read their descriptions, too. You'll definitely want to learn more about party tents before committing to buying one, and it doesn't hurt to browse.
If you're ready to buy a party tent, give PTD a call at 1-716-566-5804. We'd love to help you find the best party tents and tent accessories for your family and your events. And if you have any questions about any of this equipment, don't hesitate to ask us. We're always happy to help!
Whether you're renting a party tent or buying one, it's important to know all of the facts and make an informed decision. We hope this article helped you accomplish that one way or the other. And please feel free to call us, use our website's chat support feature, or comment below if you have any questions!