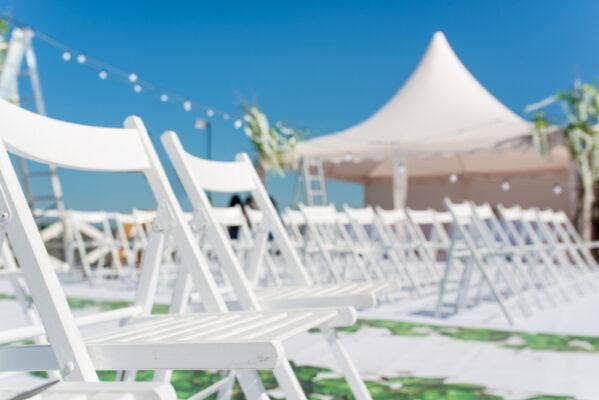 A Special Tent for a Very Special Day
Planning a wedding is stressful. You'd be hard pressed to find many people who'd disagree. And costs are of course a major contributor to that stress. If you're planning an outdoor wedding, you're going to need wedding tents. So the question then becomes: how much does a wedding tent cost? Should you buy wedding tents, or rent them?
A wedding tent can cost anywhere from $400 to $25,000 or even more. It all depends on your wedding tent's style, grade, and size. A fairly standard 20x20 wedding tent will cost anywhere from $700 for a consumer grade Weekender pole tent to $3,100 for a top of the line twin tube high peak tent.
Before you can accurately figure out how much a wedding tent will cost, you'll first need to figure out precisely what your needs are. How many guests do you need to accommodate? What sort of surface are you setting up on? Are tents just for guests and dining? Or are you using tents for other purposes as well, like covering a dance floor or housing wedding gifts?
Let's dive into some of these variables and narrow our choices a bit. After all, price isn't the only factor we need to take into consideration. We need to make sure we're getting the right tent for the job, and that it suits all of our needs.
Finding the Perfect Wedding Tent Sizes
Whether it's for a wedding, a barbecue, or a music festival, party tent size matters. Ensuring your party tent is big enough to accommodate your guests and your other needs is critical. So let's start by learning how to calculate our spacial needs accurately.
As a general rule, you should always provide at least 10 square feet of space for each individual guest. A standard size 20x20 high peak tent or frame tent has 400 square feet, without the obstructive center poles you'll find with pole tents. This means they can generally accommodate around 30 to 40 sitting and dining guests or less, depending on how much space you want to provide each person. And it goes without saying that people appreciate more space.
Seating more guests of course means you need more tent space. If you're looking for a wedding tent for 150 guests, for instance, you'll need 1,500 square feet of interior space. Of course, you don't need to fit everyone under a single tent. It's quite common for wedding planners to use multiple tents instead of one huge party tent.
Choosing a Wedding Tent Style
Next, we'll need to know what style of wedding tent your special event will need. We wrote a blog devoted to explaining the differences between the four basic types of party tents. We strongly recommend reading that blog for further details. But here's the super duper short version:
The Grade of Your Party Tent
Now let's discuss the tent's grade: is it commercial, or is it consumer? What's the difference, and why does it matter?
Our Weekender line of consumer grade tents are designed for backyard barbeques, birthday parties, and July 4th bashes. They'll work great for a wedding, too. So if you plan on buying party tents for personal use at home, and you're looking to save some money, a consumer grade Weekender party tent should suit you well regardless of what sort of event you're hosting.
However, if you're starting a wedding planning company or an event and party rental service, you need to invest in commercial party tents. They're designed to hold up to the physical stress of being packed into a van or truck, transported, set up, torn down, and cleaned on a daily basis. Consumer tents are tough, but they're not quite that tough.
Our Weekender tents are made from similar materials as those used in commercial tents. These are high quality, durable tents and genuinely great for home use. But commercial tents are the safer option for commercial use.
So How Much Does a Wedding Tent Cost at the End of the Day?
When you factor in all of these elements, you'll start to see a general wedding tent cost emerge. As a rule, you should probably expect to spend anywhere from $2,500 to $7,000 on a professional, commercial grade wedding tent.
The vast majority of consumers looking at whether to rent or buy a wedding tent should end up renting. Unless you intend to keep the tent after the wedding and use it at home for outdoor parties, renting is probably the way to go.
There should be reasonably priced event and party rental companies in your area that can help you find suitable party tents. Just remember the 10 rental ROI rule: party tents are usually priced so those companies see a return on their investment in approximately 10 rentals or less.
You can use our website to see the general price of party tents, and look at several rental companies in your area to find competitive rates. Using that information and the 10 rental ROI rule, you should be able to calculate a generally fair price range for your area.
For those of you thinking about buying a wedding tent, we suggest giving our party tent experts a call today at 1-716-566-5804. We'll gladly walk you through the various features of each of our tents and help you find options that suit your events, your budget, and your other needs. And don't forget to ask our team about our awesome sales and our free shipping, too!
We'd like to congratulate the happy couple, and we hope the wedding planning is as stress free as possible. And if there's anything PTD can do to help you find wedding tents, folding tables, folding chairs, dance floors, or anything else, know that we're just a phone call away.